Association of Private Tourist Agencies of Uzbekistan
OrexCA.com - a member and partner of APTA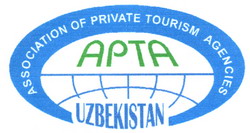 115, Buyuk Ipak Yuli
Tashkent, Uzbekistan
Tel: (998 71) 140 07 87
Tel./fax: (998 71) 140 07 67
E-mail: apta@inbox.ru
http://www.apta.uz

The Association of Private Tourist Agencies of Uzbekistan is an independent, non-governmental, non-commercial, voluntary public organization created in 1998, consolidating the private tourist companies and hotels of the Republic, and promoting the formation of a modern infrastructure for local and international tourism in Uzbekistan.

The basic missions of the APTA of Uzbekistan:


Rendering assistance and coordinating the activities of private tourist organizations - members of APTA;
Protection and promotion of the interests of small and medium size tourist businesses in state bodies and public organizations;
Providing information, consulting, and practical assistance to the members of the Association;
Organization of training for private sector tourist industry workers;
Attracting foreign investment and improvement of capabilites and opportunities for local residents of the Republic of Uzbekistan in the development of the private sector in the tourism sphere;
Conducting market research on the tourist industry;
Participating in the revival of the Great Silk Road.

Currently, the Association counts more than 60 private tourist firms and hotels among its members, working in the largest tourist centers of the Republic: Tashkent, Samarkand, Bukhara, Khiva, Termez, and the Fergana Valley.
The members of the APTA consist of tour operations companies, specializing in the reception and service of foreign guests and the facilitation of international travel for citizens of Uzbekistan, and also number of comfortable private hotels.

The Association annually develops and realizes projects for the support of medium and small businesses in the sphere of tourism in the Republic. With the active assistance of the Association, privileges and discounts on airline fares inside Uzbekistan are given to members of the APTA upon the completion of a certification of tourist service quality.

The APTA of Uzbekistan actively participates in international tourist exhibition and forums and maintains relations with many tourist associations throughout the world.

The APTA of Uzbekistan expresses its sincere hope for the attention of foreign organizations for further cooperation with the aim of the development of international tourism.