Angels Day. A Child's Wish in a Letter Program – 2013
on December 18, 2013 in "International" hotel in Tashkent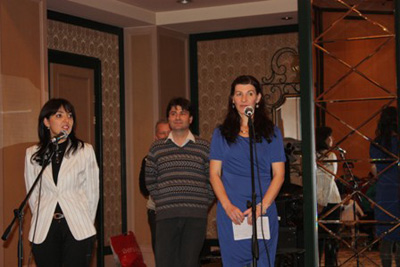 Winter season is filled with magic and wonder, expectation and joy. For children winter is closely associated with holidays, festivities, time with loved ones and presents. More than in any other time of the year, people are touched by the joy of giving and awed by the power of kindness and love.
For the past ten years children with special needs from Tashkent and province, ages 3-12, are invited to participate in a program organized by volunteers of "A Child … A Smile", with the help of friends and longtime supporters. Children write letters to Santa with their wishes, and sponsors are invited to play the role of "elves", ensuring that each child receives what he wishes for.
On the 18th of December 2013, all children and sponsors gathered in the Crystal Ball Room of Hotel International, to meet Santa and receive the long awaited presents. All the "elves" who helped Santa in making such a jolly feast were rewarded to see the happy smiles on children's faces. Once more, the magic of Christmas came alive.
Such great children events happen with the collaboration of the people who contributed to the organization and sponsorship of it. OrexCA.com traditionally carries a big weight of this event, by sponsoring numerous presents for the children, and financially contributing to the last minute emergencies. So that beautiful and memorable events like this can be run year after year.