Wonders of Uzbekistan
Special Uzbekistan tour for Chinese tourists
Uzbekistan! Naturally Irresistible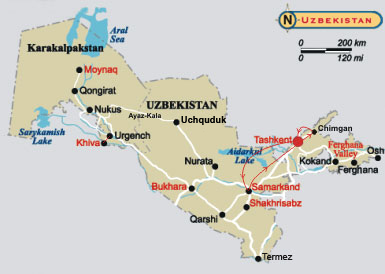 Request for tour price & booking >>>
Duration: 7 days, 7 nights
Kind of route: air and motor coach tour
Season: all year
Trip type: family holidays
Accommodation: Twin/Single in hotels
Description: three days experience in Tashkent - the city of fun, leisure and wonderful surprises and trips to magnificent Tyan-Shan mountains & Samarkand - the Heart of Tamerlane' Empire! This specially designed leisure/incentive Tashkent tour is very economical and includes daily free entry to disco clubs, show clubs, comfortable hotels, and daily conference hall use and quality service.
Travel itinerary: Beijing - Tashkent - Samarkand - Tashkent - Chimgan - Tashkent - Beijing
Day 1 (Tue.): Beijing - Tashkent
Arrival to Tashkent - the capital of Uzbekistan with the flight HY506 at 14:55. Transfer to the hotel and accommodation. Rest after a long flight. Overnight in Tashkent.
Day 2 (Wed.): Tashkent
Breakfast. Free day in Tashkent for shopping and excursion accompanied by local guide. Overnight in Tahskent.
Day 3 (Thu.): Tashkent - Samarkand
Breakfast. Transfer to Samarkand. Arrival and hotel accommodation. City tour: Gur Emir Mausoleum - Tamerlan's tomb (14-15th c.) that was built for Temur's grandson Muhammad-Sultan and the tombs of three other Temurids - sons of Temur - Miranshah and Shahruh and his grandson Ulugbek, Ruhabad Mausoleum ("House of Spirit") - the legend says that under the dome there is a box with seven hairs of Prophet Muhammad (14th c.), Registan Square ("A sandy place") - the major square of Samarkand: Ulugbeg Medressa - Sheikh Khodja Akhrar and poet Djami were among outstanding graduates of the medressa (15th c.), Sher-Dor Medressa ("Having tigers") (17th c.), Tillya-Kari Medressa ("Coated by gold") - the rich gilding on the dome, walls and mihrab surpassed all other famous buildings in Central Asia (17th c.). The mosque named after Hazret-Hyzr - an Islamic saint and eternal wanderer. He was esteemed as giving richness and good luck in far voyages and trade (19th c.), cathedral mosque Bibi-Khanym that was named after the oldest wife of Tamerlan (14th c.), the architectural complex Shahi-Zinda (Alive king) - necropolis on the slope of the Afrosiab hill is connected with Kusam ibn Abbas - the cousin of Prophet Muhammad (11-15th c.), Siab bazaar. Wine tasting in Khovrenko winery. Free time to spend at leisure. Overnight in the capital of Tamerlane's Empire.
Day 4 (Fri.): Samarkand
Breakfast. Free day in Samarkand. Overnight in Samarkand.
Day 5 (Sat.): Samarkand - Tashkent
Breakfast. Afternoon transfert back to Tashkent. Free time for leisure. Overnight in the capital of Uzbekistan.
Day 6 (Sun.): Tashkent - Charvak-Chimgan mountain resort
Breakfast. Transfer to the Chimgan mountains. Accommodation in mountain resort/hotel. Horse riding near the Chimgan mountains. Excursion to the mountain resorts Chimgan and Beldersay including mountain chair lift ride. Overnight in mountain resort.
Day 7 (Mon.): Charvak-Chimgan mountain resort - Tashkent
Breakfast. Afternoon transfer to Tashkent. Accommodation in hotel. Free time for leisure. At 23:00 transfer to Tashkent Airport for flight HY-505 departure at 01:00 on Tuesday to Beijing, good bye to the wonderful land, back to monotony with the intention of returning.
Uzbekistan waits to welcome You!
We hope you like the program and assure you that we are absolutely open to any suggestions to increase the range of our services for the entire satisfaction of our clients and are happy to meet your special requirements.
You can alter the duration of your tour and places of visits by adding one of the extensions. Our tour operator will work closely with to carefully prepare an itinerary based on your stated interests.
OrexCA.com - Your Ultimate Virtual Travel Guide in Central Asia!