Great cities of the Central Asia
Combined Central Asian tour
Reserve tour now >>>

Duration: 14 days, 13 nights
Kind of route: motor coach tour and airway
Season: August - November, March - June
Accommodation: Single/Double in hotels

Description: Intensive tour around Central Asia's cities. The land of the ancient culture and the great historical values.

Travel itinerary: Uzbekistan - Turkmenistan - Kazakhstan - Kyrgyzstan - Uzbekistan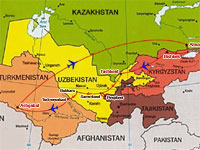 Day 1 (Mon.): Tashkent
Arrival in Tashkent - the capital of Uzbekistan. Transfer to the hotel and accommodation. Rest after a long flight. Lunch. Afternoon city tour: New Tashkent TV Tower - the highest in Central Asia and the 9th in the world - 375 m, Memorial to the Victims of Repression - the memorial complex and museum, Monument of Courage (1976) - the epicenter of the Tashkent earthquake of 1966. Dinner. Overnight in Tashkent.
Day 2 (Tue.): Tashkent - Samarkand
Continuation of excursion around Tashkent: Museum of Amir Temur, The State Museum of History, Museum of Applied Art, Independence square, Central Boulevard which consists of 4 parks - East (including the famous Blue Dome), Russian, Japanese and French. Then - Exhibition Hall of Academy of Fine Arts, Sculpture Park, the Palace of the Romanovs, local "Broadway", Theater Square, Amir Temur Square. Lunch time. After lunch transfer to Samarkand (330 km, 5 hrs.). Arrival to sacred Samarkand. Accommodation in the hotel. Dinner in the hotel. Overnight in Samarkand.
Day 3 (Wed.): Samarkand
City tour: Gur Emir Mausoleum (14-15th c.) that was built for Tamerlan's grandson Muhammad-Sultan and the tombs of three other Temurids - sons of Temur - Miranshah and Shahruh and his grandson Ulugbek, Ruhabad Mausoleum ("House of Spirit") - the legend says that under the dome there is a box with seven hairs of Prophet Muhammad (14th c.), Registan Square ("A sandy place") - the major square of Samarkand: Ulugbeg Madrassah - Sheikh Khodja Akhrar and poet Djami were among outstanding graduates of the Madrassah (15th c.), Sher-Dor Madrassah ("Having tigers") (17th c.), Tillya-Kari Madrassah ("Coated by gold") - the rich gilding on the dome, walls and mihrab surpassed all other famous buildings in Central Asia (17th c.). The mosque named after Hazret-Hyzr - an Islamic saint and eternal wanderer. He was esteemed as giving richness and good luck in far voyages and trade (19th c.), cathedral mosque Bibi-Khanym that was named after the oldest wife of Tamerlan (14th c.), the architectural complex Shahi-Zinda (Alive king) - necropolis on the slope of the Afrosiab hill is connected with Kusam ibn Abbas - the cousin of Prophet Muhammad (11-15th c). Dinner. Overnight in the capital of Tamerlane's Empire.
Day 4 (Thu.): Samarkand
Visiting Aiesha - a small oriental costume and textile workshop in Samarkand. Dinner. Overnight in Samarkand.
Day 5 (Fri.): Samarkand - Bukhara
After breakfast transfer to Bukhara (270 km, 2, 5 hrs). Accomodation in the hotel. Lunch in the hotel. City tour: Mausoleum of the Samanids - the most ancient brick building in Central Asia, a masterpiece of world architecture (9-10th c.), the mausoleum of Chashma Ayub that belongs to esteemed "places of trace" left by saints (14th c). The legend says that once the bible prophet Job (Ayub) visited this place. Visit to the museum of Imam Al Bukhari and "The Museum of Water". Bolo-Houz Mosque - the only monument of medieval Bukhara (beg. of 20th c), Ark - the center of Bukhara statehood (4th c. BC), silk carpet shops, complex Poi Kalon ("Beneath the Great"): Kalyan Minaret - the main symbol of Bukhara that symbolized authority and power of spiritual governors. (12th c.), Kalyan Mosque - its area of 130x80 m. surpasses Bibi-Khanym mosque in Samarkand, Miri Arab Madrassah - active madrassah is one of the most esteemed spiritual Islamic universities (16th c), Taki Zargaron - the dome of jewelers (15-16th cc), Ulugbeg Madrassah - one of the 3 madrassahs constructed by grandson of Tamerlan - Ulugbeg (15th c), Abdulaziz-khan Madrassah - a traditional Madrassah with 2 floors of hudjras and a mosque on the central axis ( mid. of 17th c), Abdullah-Khan Madrassah (1588-1590), atlas shops, Magoki-Attari Mosque - the most ancient mosque in Bukhara (12th c) is considered a masterpiece of Bukhara architecture, Khanaka and Madrassah of Nadir Divan-Beghi - a massive rectangular structure that was a place for the refuge and meditation of Sufis (17th c), Kukeldash Madrassah (16th c) - one of the biggest Bukhara Madrassah, Lyabi-Hauz ensemble - the largest artificial reservoir of medieval Bukhara - is very popular among travelers (14-17th cc), Chor Minor ("Four minarets") is an unusual Madrassah built by Caliph Niyazkul (18th c). Dinner outside. One of "1000 and 1 nights" in Bukhara.
Day 6 (Sat.): Bukhara
Breakfast. Tour outside the city: Emir's Summer Residence Sitorai Mokhi-Khosa (19th c.), memorial necropolises Chor Bakr (10th c.), visit to the Bakhouddin Nakshbandi mausoleum (16-19th cc.), to the sepulchers of his mother and his preceptor (14th c.). Return to Bukhara. Free time for rest and walking through the old streets of Bukhara.
19-00 - Dinner in Nodir Divan Begim restaurant.
Overnight in a quiet and cozy Bukhara hotel.
Day 7 (Sun.): Bukhara - Turkmenabat - Ashgabat
8-00 - transfer to Uzbek - Turkmen border "Farab" - Meet at the border. Border and customs formalities. Drive to Turkmenabat. On the route we cross Amudarya river by pontoon bridge and discover landscape of "Sundukli" barchans (the extremity of Kyzylkum desert). Lunch. Discover Turkmenabat (second largest town in Turkmenistan and centre of Lebap region). Flight to Ashgabat (Boeing 717-200, 50 min flight, accordingly to flight schedule at 20:40). Arrive. Dinner. Accommodation in the hotel. Overnight in Ashgabat.
Day 8 (Mon.): Ashgabat
Full day sight seeing in Ashgabat, visiting Arch of Neutrality, Independence park, National museum of history, archeological site "Old Nisa" (Parthian royal residence, UNESCO protected site), Spiritual mosque of Turkmenbashi, Ertogrul Ghazi mosque. Overnight in Ashgabat.
Day 9 (Tue.): Ashgabat - Almaty
Drive to Kov Ata, 96 km. Visit underground lake in the cave of Kopet Dag mountains (deepest cave in the region with hydrogen sulfide waters lake at the bottom, always having temperatures +30-33 C). On the way back visit Geok Tepe mosque. Late afternoon transfer to airport. Seeing off at airport. Flight to Almaty at 18:40 flight T5 715 at 19-35. Arrive at Almaty at 23-20. Hotel accommodation. Overnight in Almaty.
Day 10 (Wed.): Almaty
Transfer Almaty - Medeo (H-1691) - Chimbulak (H-2230) (25 km, 1 hour). Ascent by cable way to Big Talgar pass (H-3163). Hiking. Back to Big Talgar pass. Panorama view. Descent by cable way to Chimbulak. Back to Medeo. Lunch at the restaurant "Kazakh Aul". Walking around Medeo. Transfer back to Almaty. Ñity tour in Almaty: Zhenkov Cathedral, Museum of Musical instruments, Panfilov Memorial, National Museum, central square, "Green" bazaar. Dinner. Overnight at the hotel.
Day 11 (Thu.): Almaty - Chilik village - Charyn Canyon - Kegen village - Ñholpon Ata
Breakfast. Transfer: Almaty - Chilik village - Charyn Canyon - Kegen village - Ñholpon Ata (500 km). Lunch on the way. After breakfast we leave Almaty and travel along picturesque road through many villages and steppes. It takes 3-3,5 hours to reach Charyn canyon. Descent to canyon, to Charyn river (this place is named as Valley of Castles). Short walking. After excursion we continue our way along road, leading to Kyrgyz-Kazak border. Road passes the Kegen pass and in 60 km we are at Kazak-Kyrgyz border. Passport and custom control. And we continue our trip. In 6 km road comes up to the north spurs of the east part of Terskey-Alatoo range and turns to the west to the valley, located between north spurs of Terskey Alatoo and east extremity of Kungey Alatoo range. Excursions rocks Tamerlan. After San-Tash pass our way lies to Issyk-Kul hollow. Arrive to Ñholpon Ata. Dinner in the hotel. Overnight in Cholpon Ata.
Day 12 (Fri.): Ñholpon Ata - Bishkek
Early morning drive to Bishkek. Visit Burana Tower. Lunch en route. Upon arrival visit Victory Square, Panfilov Park, Historical Museum, Ala-Too Square, Philharmonic Hall (outside), Manas Statue. Dinner at local restaurant. Overnight at hotel.
Day 13 (Sat.): Bishkek - Tashkent
After breakfast excursion to National Park Ala-Archa. Lunch at local restaurant in Bishkek. After lunch free time. Approx. at 17.30 PM transfer to airport for flight to Tashkent by QH-409 dep. At 19.50 PM. Arrival and late snack in the hotel. Overnight in the hotel.
Day 14 (Sun.): Tashkent - Airport
Transfer to Tashkent Airport for evening flight to next destination, good bye to the wonderful land, back to monotony with the intention of returning.

1. Meals: Our tour price is based on full board (from lunch on D-01 till breakfst on D-14).
2. Guide: Our tour price is based on English speaking escort - guide in every country.
3. Visa: We did not include in tour price expenses for visa support letter for Kyrgyzstan & Kazakhstan: