Uzbek cuisine
Shurpa, chuchvara, manty, samsa
Shurpa, mastava
Among the liquid dishes, various kinds of Shurpa and Mastava take an important place in Uzbek national cuisine. The basis of these dishes is the bouillon of fatty meat. Shurpa and Mastava are prepared from fresh or pre-fried meat, most often from fresh mutton. Important components are sliced carrots and onion rings, which are added fresh. Sometimes Shurpa is prepared with turnips or peas. In several areas potatoes, fresh tomatoes and sweet peppers are added. Shurpa is subdivided into Kaytnama (shurpa from fresh meat) and Kovurma (shurpa from fried meat). Kaytnama - shurpa is the most popular and has a gentle taste and aroma. The meat is cooked in large pieces, and the vegetables - whole or in large pieces. Cooking should be done on a slow fire and it is impossible to allow a vigorous boil.
Mastava can be considered as a version of Shurpa. It is prepared, as a rule, from fried meat. The basic components are rice (pre-washed), which is put into a bouillon 25-30 minutes prior to being ready. In some areas, caraway seeds are added to the Shurpa 50-60 minutes prior to being ready, for a better taste.

Ugra Soups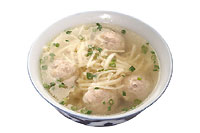 Homemade noodle soups are also very popular in Uzbek national cuisine. Ugra is prepared on the basis of bouillon, milk or sour milk. Such kinds of soup are often prepared in the Bukhara, Kashkadarya, Samarkand and Tashkent regions and in the Ferghana valley. Dough with water or milk, with the addition of butter or eggs, is mixed .In 30-40 minutes, the dough needs to be unrolled in thin layers, which are cut in strips 8-10 cm. wide, covered with flour, put in a pile and cut into noodles. The meat is cut into small cubes; the potatoes, carrots and onions are fried in a small quantity of fat, with the addition of fresh tomatoes. Fried vegetables are filled with cold water and boiled, the foam should be removed, and kidney beans and salt should be added. 12-15 minutes prior to readiness add heat and small portions of noodles.
Chuchvara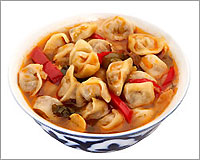 Chuchvara is the most widespread national dish, sometimes seen under different names such as Varak-chuchvara (pel'meni). In all areas, Chuchvara is prepared with the same methods. The ingredients are flour, eggs, water and salt. The dough is mixed and left for 40-50 minutes to rise. For the stuffing, beef or mutton is cut in slices and finely cut with onions or passed through a meat grinder; cold water, pepper, salt, and thyme should be added and carefully mixed. The dough is unrolled in a layer 1-1.5 mm thick and cut into squares of 4x4 cm. A small drop of stuffing should be dropped onto a slice of dough, after which the corners are pinched and folded. When the ends are connected, it should form a half moon shape with a small hole in the middle. Chuchvara should be boiled in salt water or bouillon and served with "suzma" (sour milk), and seasoned with pepper, onion and tomato paste, with black pepper or sour cream.
Manty

After Plov, Manty is the most popular and favorite Uzbek dish. That is why in many regions Manty is served at the end of the meal. In the Fergana valley, Samarkand, Tashkent and Bukhara, Manty is one of the major components of the diet of the local population. In other places, it is prepared less often. Manty is prepared from water based dough, which is unrolled in layers 4-5 mm thick and cut in squares of 12x12 cm. Meat, vegetables or spices can make up the stuffing. Manty is steamed for 35-45 minutes in a special pot (kaskan). Manty is served with sour milk or sour cream.
Samsa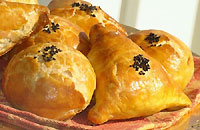 Samsa is prepared in all areas of Uzbekistan with various fillings: meat, pumpkin, herbs, etc. Samsa is baked in a tandoor oven, as well as in gas ovens and on electric plates. For samsa, an ordinary stiff dough is mixed, left for 20-30 minutes, then unrolled in plaits and cut into pieces of 10-15 grams. It should not be thicker than 2-2.5 mm. The edges are thinner than the middle. The filling is put in the center, folded in the dough and baked at a high temperature. For the dough, the following ingredients are required: flour - 25 g, water - 105 g, salt - 6 g; for the filling - mutton or beef fillet - 150 g, fat - 35 g, onion- 250 g, caraway - 1 g, salt and pepper.
Lagman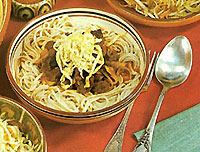 There are two distinguished kinds of Lagman: Kesma lagman and Chuzma lagman (prepared more often). Kesma lagman has a more ancient history than chuzma lagman. Stiff dough is prepared from flour, eggs, water and salt; then left to rise for 30-40 minutes under a napkin. Then the dough is unrolled in layers 1.5-2 mm thick and with a diameter not less than 10-15 cm. The layers are put in pile, covered with flour and cut into noodles with sharp knife. Slightly stir up the noodles and boil in salt water. Before serving, a special sauce, which is prepared from meat, potatoes, carrots, onions and tomatoes, is added. These ingredients should be fried, with the addition of some water, and stewed to readiness. In the Fergana and Tashkent areas, Lagman is prepared with the addition of radish and red bitter pepper.
Naryn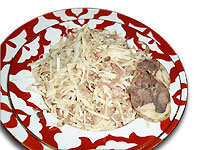 Naryn is a rather widespread Uzbek dish that is prepared in all areas of the Republic. Stiff dough is prepared from flour, eggs, salt and water, then left covered with a wet towel for 30-40 minutes. Afterwards the dough is unrolled in a thin layer, and cut into strips 5-7 mm wide. Covered with flour and laid in a pile, the noodles are cut. The noodles should then be boiled. Before serving, some bouillon is added to the noodles and topped with beef cut into fine slices and/or kazy (horse meat). For the preparation of the dough, the following ingredients are required: flour - 900 g, water - 90 g, salt - 6 g, and 1 egg.