Jiri Ganzelka and Miroslav Zikmund
Photo exhibition "Central Asia as it was seen by Czech travelers 40 years ago"
Русская версия >>>

He was an extraordinary figure in recent Czech history: the famous explorer Jiri Hanzelka, who, along with Miroslav Zikmund, organized extensive expeditions to regions around the world including Africa, Latin America, Oceania and Asia. Jiri Hanzelka died over the weekend at the age of 82, bringing an end to a unique partnership, and leaving behind a unique body of information: countless articles, photographs, and other valuable ethnographic material.

Miroslav Zikmund and Jiri Hanzelka (right) in 2000, photo: CTK
Jiri Hanzelka and Miroslav Zikmund first made their mark when they set out on an expedition to Africa and Latin America in 1947. They had hit upon an original idea for their time: gaining sponsorship from the Tatra automobile company by choosing to travel in one of their cars, the sleek, scarab-like Tatra 87...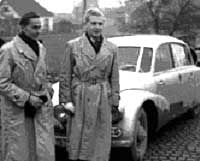 The two-man team also negotiated to send written articles, radio and film reports back to Czechoslovakia in return for financing. Their first expedition lasted more than three years, beginning on the northern coast of Africa and ending in Central America.
Miroslav Zikmund an d Jiri Hanzelka (right) in 2000, photo: CTK
Certainly a terrifying incident, but one that paled with events happening back home. After making it as far as Mexico, the duo had no choice but to return to a country that was descending into what would become one of its darkest periods: the Stalinist 1950's, a time of trumped up political show trials and executions.
In spite of the changes in the country, the adventurers were at first treated affably by the new regime: they were allowed to publish at a time when most Czechs were forbidden from travelling abroad. Eventually, they prepared for a new journey, this time to Asia, Australia, and Oceania. On a journey lasting more than five years they reported on four specific areas: Indonesia, Irian Jaya, Japan, and the Soviet Union.
The last report would have a devastating effect on the future of their work. Providing a realistic picture on poverty and hardship in the Soviet Union at the time, the report got Zikmund and Hanzelka blacklisted, preventing further expeditions. The duo's activities during the 1968 Prague Spring, and later Jiri Hanzelka's signing of the human rights Charter 77 again put them in disfavor with the Communists. In the end, the report on the Soviet Union would only be published after 1989. The explorers enjoyed a brief return to travel in the 1990s, though Jiri Hanzelka soon suffered health problems that prevented him from continuing his life's passion.