Surkhandariya - the Cradle of Civilization
Historical & Architectural Tours in Uzbekistan
Request for tour price & booking >>>
This tour is developed on a case-by-case basis, 5 days (max.)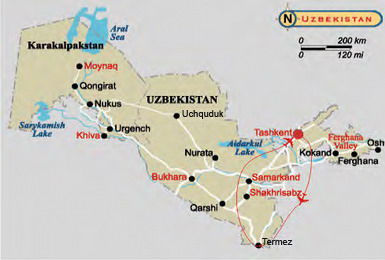 Duration: 3 days, 2 nights
Kind of route: air and motor coach tour
Season: year-round
Accommodation: Single/Double in hotels

Description: Travel in Uzbekistan. Surkhandariya tour. Tour package consists of a combination of historical, architectural and natural components.
Today we have sufficient documentation and archeological sites to utterly prove that Uzbekistan, and especially its southern part - Surkhandarya region, is the most ancient civilization in Central Asia. Only here can you enjoy viewing world famous monuments, whose history goes back to the foundation of civilization. Only in Surkhandarya can you see the Teshik Tosh cave, where the skeleton of the first man, which dates to the stone age, was found; rock murals in Zarautsay gorge, ancient settlements and Buddhist monasteries, such as Dalverzintepa (2-3rd c.), Kampirtepa (3-2nd c. B.C.) and many other fascinating monuments.
With this tour, we are offering you a visit to historical locations, beginning with monuments dating from before Christ, and finishing with more recent monuments, along with the opportunity to enjoy beautiful mountain scenery.
Travel itinerary: Tashkent - Termez - Denau - Sangardak (waterfall) - Nilu village - Termez - Tashkent
Day 1: Transfer to airport for morning flight to Termez. Accommodation in hotel. Tour within and outside the city: An archeological museum, Fayaztepa (the site of an ancient settlement of the 2-3rd c.), the Mausoleum of Hakim At Termezi (9-15th c.) (4 km), Buddhist Stupa Zurmala (7 km), Mausoleum Sultan Saodat (10-15th c.) (7,5 km), Honako Kokaldor Ota (16th c.) (4 km), the Kirk Kiz Womens Nunnery (9-10th c.) (4 km). Dinner. Overnight in Termez.
Day 2: Breakfast. Surkhandariya region tour: Jarkurgan's Minaret (12th c.) (60 km from Termez), Bridge of Iskandar (16th c.) (45 km from Jarkurgan), Dalverzintepa archeological dig (1st c.), the capital of the Kushan Empire. Transfer to Denau city (30 km). Lunch in Denau. City tour: Madrasah Sayid Atalik (16th c.), local Arboretum. Transfer to Termez. Dinner. Overnight in Termez.
Day 3: Breakfast. Transfer to the famous Sangardak waterfall (22 km). On the return trip, visit to Nilu village (3 km ride by off-road vehicle), an ancient Tajik settlement known for its old chinara (platan wood) more than 24 meters in diameter. Visit to the village mosque, school, and private houses. Picnic with folklore concert. Transfer to Termez. Lunch. Transfer to airport for return flight to Tashkent.
We hope you like the program and assure you that we are absolutely open to any suggestions to increase the range of our services for the complete satisfaction of our clients and are happy to meet your special requirements.
You can add this extension to any Historical and Architectural Tour or Adventure Tour in Uzbekistan. Our tour operator will work closely with you or your travel agent to carefully prepare an itinerary based on your stated interests.