A Travel into History
Special Uzbekistan tour for Chinese tourists
Uzbekistan! Naturally Irresistible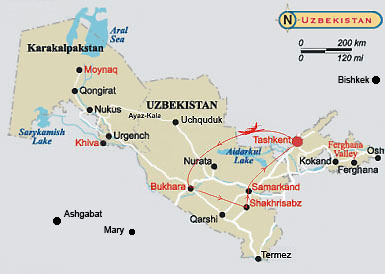 Reserve tour now >>>
Tour code: TBST - 7US09
Duration: 4 days, 3 nights
Kind of route: airway, motor coach tour
Season: all year
Accommodation: Single/Double in hotels
Travel itinerary: Seoul - Tashkent - Bukhara - Shakhrisabz - Samarkand - Tashkent - Seoul
Day 1 (Fri.): Seoul - Tashkent
Taking flight HY-512 from Seoul at 15:40. Transfer to the hotel and accommodation. Rest after a long flight. Light snack in the hotel.
Overnight in hotel.
Day 2 (Sut.): Tashkent - Bukhara
Early flight to Bukhara at 6:30. Arrive to Bukhara at 08:15. Meeting and accommodation in the hotel.
10.00 - City tour: Ark - the center of Bukhara statehood (4th c. BC), complex Poi Kalon ("Beneath the Great"): "Kalyan Minaret" - the main symbol of sacred Bukhara that symbolized the authority and power of spiritual governors. (12th c.), "Kalyan Mosque"- its area of 130x80 m surpasses Bibi-Khanym mosque in Samarkand, "Miri Arab Madrassah" - active madrassah is one of the most esteemed spiritual Islamic universities (16th c.), Taki Zargaron - the dome of jewelers (15-16th cc.), Ulugbeg Madrassah - one of the 3 madrassahs constructed by the grandson of Tamerlan - Ulugbeg (15th c.).
13:00 - Lunch time in the hotel.
19:00 - Dinner with folklore show in Nodir Divan Begim Madrassah.
One of the "1000 and 1 nights" in Bukhara.
Day 3 (Sun.): Bukhara - Shakhrisabz - Samarkand
Transfer to Samarkand via Shakhrisabz - a unique monument of town-planning and architecture (270 km, 3,5 hrs). Shakhrisabz tour: ruins of "Ak-Saray Palace" - Tamerlan's summer residence that shocked the imagination of his contemporaries (14-15th c.), "Jahongir Mausoleum"- mausoleum of Tamerlan's eldest and favorite son (14th c.), complex "Dor-ut Saodat": "Khazratiy Imam Mosque" - the multi-stage mosque with domical hall with decorated ayvans (14th c.), "Gumbazi-Seiidan" - mausoleum of possible offspring of Temur, "Kok Gumbaz Mosque" ("Blue dome") - built by Ulugbek on behalf of his father Shahruh (15th c). The Golden Road to the historical town of Samarkand - a crossroad of the world's cultures, one of the most ancient cities in the world (90 km, 1,5 hrs). Hotel accommodation and free time. Overnight in the city that is a contemporary of ancient Rome and has a history of more than 2500-years.
13:00 - Lunch in local cafe in Shahkrisabz.
14:00 - Transfer to Samarkand (270 km, 2,5 hrs). Arrive and accommodation in the hotel.
17:00 - Visiting Bibi-Khanym (14th c.), built by Timur to be biggest mosque at time. Architect, craftsmen & painters built it in 5 years. Siab bazaar (is closed on Mon).
19-00 - Dinner in the hotel. Overnight in Samarkand.
Day 4 (Mon.): Samarkand - Tashkent - Seoul
Breakfast. City tour: Gur Emir Mausoleum - Tamerlan's tomb (14-15th c.) that was built for Temur's grandson Muhammad-Sultan and tombs of three other Temurids - sons of Temur - Miranshah and Shahruh and his grandson Ulugbek, Registan Square ("A sandy place") - the major square of Samarkand: "Ulugbeg Medressa" - Sheikh Khodja Akhrar and poet Djami were among outstanding graduates of the medressa (15th c.), "Sher-Dor Medressa" ("Having tigers") (17th c.), "Tillya-Kari Medressa" ("Coated by gold") - the rich gilding on the dome, walls and mihrab surpassed all famous buildings in Central Asia (17th c). An architectural complex Shahi-Zinda ("Alive king") - necropolis on the slope of the Afrosiab hill is connected with Kusam ibn Abbas - the cousin of Prophet Muhammad (11-15th c.). 13-00 - Lunch in local cafe during excursion.
Transfer to railway station for train to Tashkent by "Registan" at 17:00-20:50.
Boxed-dinner at the train. Arrival and transfer to the airport for flight to Seoul by HY-511 at 23:20.
| | | |
| --- | --- | --- |
| Pax Number | Price per pax - option A (US$) | Price per pax - option B (US$) |
| 40+1 | 265 | 237 |
| 35+1 | 270 | 241 |
| 30+1 | 277 | 247 |
| 25+1 | 285 | 255 |
| 20+1 | 297 | 267 |
| 15+1 | 305 | 275 |
| 10+1 | 340 | 311 |
| Single supplement | 54 | 50 |
Price includes:
Price excludes:

Accommodation as per the list provided from day 1 till day 5th; Tashkent Palace - 1, Bukhara Palace, Grand Bukhara - 1, President Plaza - 1;
All transfers by A/C minibus (10+1 - 15+1), big bus (45 seats) (20+1 - 40+1);
JSG tour guide along the whole rout;
Railway tickets Samarkand - Tashkent;
Full board from dinner in the hotel on day 1 till dinner on day 4th , folklore show in Madrassah "Nodir Divan Begim";
Entrance fees for the museums and monuments indicated in the main program;
Mineral water during the transfers.

Airfare of flights your city - Tashkent and back;
Air tickets: Tashkent - Bukhara - 60 US$ per person*;
Visa costs and processing;
Baggage/trip cancellation/ accident, personal insurance, medical and rescue coverage;
Transfers to/from airport for participants making individual air arrangements;
Optional excursions or deviations from the schedule tour;
Photo and video charges;
International and domestic air tickets;
Beverages;
Tips and gratuities;
Drinks, telephone/cable/fax/email charges and laundry;
Any personal expenses;
Any services not included in the above itinerary.
Important notes!!!
- This route is
certified
;
- Please note that the first and the last days of above itinerary are made-up in accordance with flight schedule of Uzbekistan Airways Seoul - Tashkent, Tashkent - Seoul (evening - arrival and evening - departure times);
- Prices for the tour are valid through the year 2011;
- No early arrivals and late departures are included. Additional supplements could be offered depending to the international flight tourist used.
Uzbekistan waits to welcome You!
We hope you like the program and assure you that we are absolutely open to any suggestions to increase the range of our services for the entire satisfaction of our clients and are happy to meet your special requirements.
You can alter the duration of your tour and places of visits by adding one of the extensions. Our tour operator will work closely with to carefully prepare an itinerary based on your stated interests.
OrexCA.com - Your Ultimate Virtual Travel Guide in Central Asia!