Navruz tours in Uzbekistan
The unforgettable celebration of Navruz - The Spring Feast and beginning of the New Year in Central Asia

Navruz (New Day) is the most cherished public holiday, the Central Asian New Year that falls on March 21 in Uzbekistan. During this two-day festival of spring renewal, singing, dancing, the making of special dishes, wrestling by burly "Palvans" and the reciting of epic poetry by wandering "Bakshi" minstrels are highlights.
While Islam has had a strong influence on The Uzbek people so do a number of older religious traditions including Zoroastrianism. Navruz has its origins in a festival celebrating the spring equinox, which Zoroaster rededicated to Asha Vahistra and fire.
The Great Silk Road oases of Uzbekistan are more accessible now than ever before in their histories.
You journey will begin in Tashkent, the capital of Uzbekistan.
A bus will take you along the Golden Road to Samarkand where you will celebrate Navruz. Here at the junction of ancient caravan routes, the colossal blue domes of Tamerlane's imperial capital dwarf the modern Uzbek city.
The drive from Samarkand to Bukhara will be broken by a visit to Shakhrisabz, the birthplace of Tamerlane. This is a wonderfully picturesque journey through steppe country dotted with small villages. Bukhara, reputed to be the holiest place in Central Asia, provides a gentle contrast to glittering Samarkand with the muted khakis of its mud walled, old city and its compact layout.
Then it is onward to Khiva, the most complete, and most heavily restored of all the Great Silk Road cities.
Taking a short flight from Urgench to Tashkent, we will return to the capital's lesser-known gems.
For your second itinerary we offer an additional 2-day trip by plane to the Ferghana Valley - known as the Pearl of Uzbekistan. Spring in the Ferghana Valley is the most beautiful season, and on the way you can see the blossoming apricot fields. City tour will include visits to Margilan and Kokand and the pottery shops and work shops of the famous Rishtan factory.

More about the Navruz Celebration >>>

Itinerary: Tashkent - Samarkand - Shakhrisabz - Bukhara - Khiva - Urgench - Tashkent Reserve tour now >>>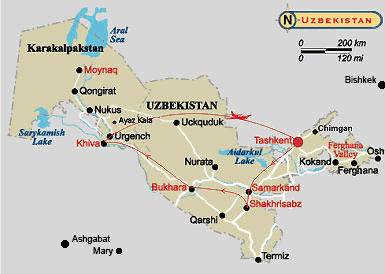 Duration: 7 days, 6 nights
Dates of tour: March 18-24, 2012
Group size: max 14 persons, min 4 persons

Day 1 (Sun, March 18): Tashkent
Early arrival in Tashkent. Accommodation in hotel. Overnight in Tashkent.

Day 2 (Mon, March 19): Tashkent - Samarkand
Morning transfer Tashkent - Samarkand. Accommodation in hotel. Sightseeing program:

st of March) in Mahallya (local community) including preparation of the traditional foods "Sumalyak"" and "Khalisa", feast, experience local customs, traditions and celebration of Navruz with local people. Overnight in Samarkand.

Day 3 (Tue, March 20): Samarkand - Shakhrisabz - Bukhara
Morning transfer to Bukhara via Shakhrisabz. Excursion in Shakhrisabz: Ak-Saray palace, Jahongir mausoleum, Gumbazi-Seiidan tomb, Kok Gumbaz Mosque. Arrival to Bukhara and accommodation in the hotel. Overnight in Bukhara.

Day 4 (Wed, March 21): Bukhara
Sightseeing program in Bukhara:

Day 5 (Thu, March 22): Bukhara
Continuation of sightseeing program:

Day 6 (Fri, March 23): Bukhara - Khiva
Morning transfer Bukhara - Khiva. Overnight in Khiva.

Day 7 (Sat, March 24): Khiva
Sightseeing program in Khiva:

Additionally - Day 8 for travelers departing from Tashkent.
Group
Price for 1 person US$
Budget class accommodation:
Uzbekistan Hotel, Kamila Hotel, Lyabi House Hotel, Arkanchi Hotel
Tourist class accommodation:
Hotel Tashkent Palace , Regal Palace Hotel, Hotel Grand Bukhara, Azia Khiva Hotel
Deluxe accommodation:
Intercontinental Hotel, Registan Plaza Hotel , Zargaron Plaza Hotel, Azia Khiva Hotel
2
458
601
696
3
423
566
661
4
354
498
592
5
311
454
549
6
284
427
522
7
264
407
502
Single supplement
46
77
197
Price includes
Price does NOT include

Double accommodation as per the list provided;
Breakfast in the hotels;
All transfers by private air-conditioned car or minibus;
Porter charges at airports;
Dinner with folklore concert in Bukhara;
English-, Spanish-, German-, Russian-speaking tour guide;
Mineral water during the transfers.

International Airfare;
Visa fee (consular fee);
English-, Spanish-, German-speaking tour guide (73 US$ - per day (08.00-18.00), 30 US$ - 4-hours excursion);
Insurance;
Additional services in the hotels;
Camera/Video fees;
Entrance fees for the monuments, museumsand handicrafts workshops during the tour;
Any additional trips.
Additionally Day 8 (for travelers departing from Tashkent):
1) Price of accommodation in Tashkent:
Hotel
Room Price (US$)
Single Room
Double Room
Uzbekistan Hotel
55
69
Tashkent Palace Hotel
100
119
Intercontinental Tashkent Hotel
240
290

2) Price of transfers Airport-Hotel or Hotel-Airport - 20 US$ per car (1-3 persons);
3) Airfare Urgench-Tashkent - 96 US$ (price varies depending on the season).


Recommended additional options (at extra fee):
Our additional offers are designed in order to provide more choice to our customers and achieve their total satisfaction. We guarantee that after choosing our different additional services you would feel that your enhancement of wonderful experiences. Contact our tour operator or your tour guide so that we may be able to plane great experience in advance.
Khiva:
- Khorezmian folklore concert US$ 45 per concert.
Bukhara:
- Wine tasting in the charming Caravansarai Nughai (US$ 10 p/person);
- Beer tasting in the beer production factory "AZIA" (US$ 10 p/person);
- A visit to an old Bozori Kord Hammam - Oriental spa (Hammam) for men and women (from US$ 3 to 15 p/person);
- We offer a few options for dinner:
1. Dinner in Madarihon Medressa with violin concert (US$ 10 p/person);
2. Dinner in Nodir Divan Begim Medressa with folklore show (US$ 15 p/person);
3. Traditional Uzbek dinner in Doston House (US$ 8 p/person);
- Splendid herbal teas in "Silk Road Spices" tea house (US$ 3 p/person);
- Fayzulla Hodjaev house-museum, where you can see the daily life of a Bukhara merchant at the beg.of the 20th c (US$ 2 p/person).

On the way from Bukhara to Samarkand:
- A visit to Vabkent minaret - one of the highest in Uzbekistan - 39 m (12th c.) (free);
- A visit to creative workshop of Abdullo Narzullayev in Gizhduvan Town (free);
- A visit to Rabat-i-Malik - an old caravanserai on Silk Road (12th c.) (free).

Samarkand:
- An unforgettable performance in The Theatre of Historical Costume El Merosi (we need to check in advance if this performance is available on the date of your visit) (US$ 10 p/person for groups only or upon concert availability on a certain date);
- There is an option to see the magical light show on "Registan" square (order should be completed beforehand) (US$ 40 for show, up to 40 persons);
- Visit to an old water mill in a Samarkand suburb (US$ 15 p/person);
- Interesting options to see the processing of and purchase souvenir:
1. Famous Silk carpet factory (visit free);
2. Small Silk Processing factory Aiesha (10 US$ for 2 persons, for groups more than 2 persons visit free).

Tashkent:
- A visit to the famous Alisher Navoi Opera & Ballet Theatre (US$ 5 p/person);
- 1 hour tour of the "Tashkent Metro" - one of most beautiful in the world (US$ 3 p/person);
- Dinner in Uzbek national house (US$ 8 p/person).