Ibn Battuta
Prominent figures of Uzbekistan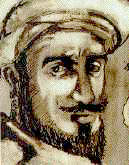 Ibn Battuta is a well-known Arabian traveler from the 14th century, the Arab equivalent of Marco Polo. He traveled around the world and also made voyages to the territory of present day Uzbekistan, visiting such cities as Urgench, Bukhara, Samarkand and Termez.
In 1325, when he was 21, he left Tangier to make his first Hajj, or pilgrimage to Mecca, as all good Muslims are required to. However, he was eager for more learning and adventure, and his traveling continued for around 29 years, during which he covered nearly 75,000 miles, visiting the equivalent of 44 modern countries which were then mostly under the governance of Muslim leaders of the World of Islam, or Dar al-Islam.
He began his travel to Mouveranakhr from Urgench (Ibn Batuta calls it Khoresm). He described Khorezm as the biggest, most wonderfully beautiful city he had seen. From Khoresm, Ibn Batuta made his way to Bukhara and Samarkand. He traveled by camel for 18 days from Urgench to Bukhara. In 4 days he reached Kyat - the most ancient of Khorezm's cities. Around this area at that time remained no settlements, whereas before the time of the Mongolian conquerors it was a prosperous and cultured region. He also described Termez as a large, beautiful and verdant city. Most of the way from Urgench to Vabkent (an old settlement near Bukhara) was very difficult for Ibn Battuta as a result of the scorching sun, lack of water and good forage for camels, which were extremely exhausted.
Ibn Battuta died in Morocco sometime between 1368 and 1377. For centuries his travelogue was obscure, even within the Muslim world, but in the 1800's it was rediscovered and translated into several European languages. Since that time, Ibn Battuta has grown in fame, and has become a well-known figure in the Middle East and world-wide.
If you wish to travel in Uzbekistan and see this historical land through the eyes of this famous traveler, click here to go " Following in the footsteps of Ibn Battuta".