Art-cafe Manas
Restaurants in Tashkent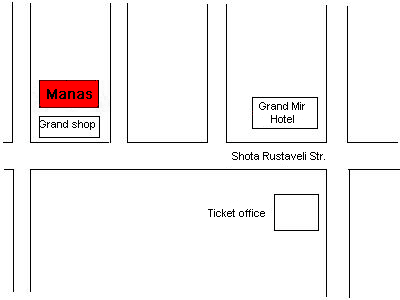 Type: Art-cafe
District: Yakkasaray d-t
Phone: 252-38-11
Ordering phone: 252-38-11
Address: 12, Usmon Nosir Street, Tashkent
Working: from 10.00 till 24.00
1 hall: 40
2 hall: 25
3 hall: 16
Music: Background, Live
Cuisine: European cuisine, Kirghiz cuisine
Credit cards: Mart
Ideal place: Banquets, Business meetings, Family rest, Late supper, Romantic appointments, Visitors of the capital
Offers: Beer on Tap, Brazier, Fish menu, Food ordering for home and office, Holding banquets, Lenten menu, Meat menu, Vegetarian dishes, Wine by Glass
Specific: VIP-hall

About restaurant: You have a wonderful opportunity to spend time in the atmosphere of nomadic life!! Welcome to the restaurant MANAS - built in the style of Kyrgyz yurt. A wide range of Kyrgyz national cuisine and original horse meat dishes - all this in a cozy round lodge. You can choose to eat outside or in the indoor restaurant decorated in original Kyrgyz style.
Exclusive dishes:
Salad "Manas"
(kazi, pickled champignons, black olives, tomato, cucumber, oil)
Soup "Manas"
(horse meat bouillon, mashed potatoes, horse meat fillet, garnish)
Besh - Barmak
(horse-flesh, kazi, mutton, beaf, pasta layers )
Jupka
(Lavash (local bread), cheese, garnish, butter, black pepper, ketchup)
Kuurma Shishkebek
(mutton on a stick)
Kirgiz meat
(meat with vegetables)
---
Rates:
Standard Lunch - 8-10 US$
Standard Dinner - 10-12 US$
Contacts:
Tel.: (+998 71) 252 38 11