Itinerary: Tashkent - Samarkand - Bukhara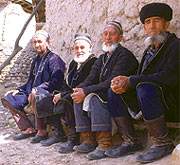 14:35 Arrival to Tashkent (HY 756) - the capital of Uzbekistan. Transfer to the hotel and accommodation.


16:00-19:00
Tashkent city tour. Old part of the city: City tour around Tashkent: "New Tashkent Television Tower" - the highest in Central Asia - 375 m, "Memorial to the Victims of Repression" - the memorial complex and museum, "Monument of Courage" - the epicenter of Tashkent earthquake of 1966 (1976 y). Old part of the city: the architectural complex "Khazret-Imam" incl. necropolis of imam Abu Bakr Muhammad al-Kaffal Shashi who was one of the first Muslim imams and a famous divine and poet (16
th
c), "Barak-khan Medressa" - built by Suyunidj-khan - the first ruler of the Uzbek dynasty of the Sheibanid's (16
th
c), "Tellya Sheikh Medressa" also called "Khast Imom Mosque" where Osman Quran - the world's oldest is kept (19
th
c), "Mui-Mubarak Medressa (19
th
c)", "Juma Mosque" (15-19
th
cc), Imam Ismail al Bukhari Islamic Institute - a two year post-medressa academy, "Hadra" square, "Kukeldash Medressa" ("Foster brother") - was built by Kukekdash - the vizier of Tashkent khans (16
th
c), "Jami Mosque"- the third biggest mosque in Uzbekistan, "Chorsu" - oriental bazaar, "National park", "Abdulkasim Medressa" which now is the centre for traditional arts with attractive souvenirs by local artisans (19
th
c).
19:00-20:00
Dinner at local restaurant.
Overnight in Tashkent.
Tuesday Day 11
TASHKENT - SAMARKAND



06:30 Breakfast in hotel.


07:00 Transfer to the rail way station for departure to Samarkand.


08:00 Departure by fast train "Afrosiyob" to Samarkand.
10:30 Arrival to Samarkand and hotel accomodation.
12:00-13:00 Lunch at local retaurant
11:00-19:00 City tour: Gur Emir Mausoleum - Tamerlan's tomb (14-15th c.) that was built for Temur's grandson Muhammad-Sultan and the tombs of three other Temurids - sons of Temur - Miranshah and Shahruh and his grandson Ulugbek, Ruhabad Mausoleum ("House of Spirit") - the legend says that under the dome there is a box with seven hairs of Prophet Muhammad (14th c.), Registan Square ("A sandy place") - the major square of Samarkand: Ulugbeg Medressa - Sheikh Khodja Akhrar and poet Djami were among outstanding graduates of the medressa (15th c.), Sher-Dor Medressa ("Having tigers") (17th c.), Tillya-Kari Medressa ("Coated by gold") - the rich gilding on the dome, walls and mihrab surpassed all other famous buildings in Central Asia (17th c.).
- Wine tasting at wine factory name of Khovrenko
- Theater of historical costumes "El Merosi"

19:00-20:00 Dinner at local restaurant
Overnight in Samarkand.
Wedsnday Day 12
SAMARKAND - BUKHARA
08:00 Breakfast in hotel.


09:00-12:00 City tour: The mosque named after Hazret-Hyzr - an Islamic saint and eternal wanderer. He was esteemed as giving richness and good luck in far voyages and trade (19th c.), cathedral mosque Bibi-Khanym that was named after the oldest wife of Tamerlan (14th c.), the architectural complex Shahi-Zinda (Alive king) - necropolis on the slope of the Afrosiab hill is connected with Kusam ibn Abbas - the cousin of Prophet Muhammad (11-15th c), Siab bazaar. Free time to spend at leisure. Overnight in the capital of Tamerlane's Empire.
Visit a workshop for making silk paper




12:00-13:00 Lunch at local resaturant
13:00 Transfer to Bukhara (268 km., 4.5 hrs).


17:30 Arrival to Bukhara and hotel accommodation.
18:00-19:00 Visit the ancient baths "Hamam"
19:00-19:30 Visit the tea house
19:30-20:30 Dinner at local restaurant
Overnigth in Bukhara.
Thursday Day 13
BUKHARA
08:00 Breakfast.


09:00-09:00 City tour: mausoleum of the Samanids - the most ancient brick building in Central Asia, a masterpiece of world architecture (9-10th c.), the mausoleum of Chashma Ayub that belongs to esteemed "places of trace" left by saints (14th c). The legend says that once the bible prophet Job (Ayub) visited this place.



Visit to the museums of Imam Al Bukhari and "The Museum of Water". Bolo-Houz Mosque - the only monument of medieval Bukhara (beg. of 20
th
c), Ark - the center of Bukhara statehood (4
th
c BC), silk carpet shops, complex Poi Kalon ("Beneath the Great"): Kalyan Minaret - the main symbol of sacred Bukhara that symbolized authority and power of spiritual governors. (12
th
c), Kalyan Mosque - its area of 130 x 80 m surpasses Bibi-Khanym mosque in Samarkand, Miri Arab Madrassah - active madrassah is one of the most esteemed spiritual Islamic universities (16
th
c), Taki Zargaron - the dome of jewelers (15-16
th
cc), Ulugbeg Madrassah - one of the 3 madrassahs constructed by grandson of Tamerlan - Ulugbeg (15
th
c), Abdulaziz-khan Madrassah - a traditional madrassah with 2 floors of hudjras and a mosque on the central axis ( mid. of 17
th
c), Tim of Abdullah-Khan madrassah (1588-1590), atlas shops, Magoki-Attari Mosque - the most ancient mosque in Bukhara (12
th
c) is considered a masterpiece of Bukhara architecture, Khanaka and madrassah of Nadir Divan-Beghi - a massive rectangular structure that was a place for the refuge and meditation of Sufis (17
th
c), Kukeldash Madrassah (16
th
c) - one of the biggest Bukhara madrassah, Lyabi-Hauz ensemble - the largest artificial reservoir of medieval Bukhara - is very popular among travelers (14-17
th
cc), Chor Minor ("Four minarets") is an unusual madrassah built by Caliph Niyazkul (18
th
c).
19:00-20:00
Farewell dinner at madrassah Nadir Divan - Beghi
Overnight in Bukhara.
Friday Day 14
BUKHARA
08:00 Breakfast in hotel.


09:00 Transfer to the Turkmen border Farab (100 km, 2 hrs)

hide