Historical Spots of Uzbekistan - 2
Classical tour to Uzbekistan. Cultural & Cognitive tourism in Uzbekistan with OrexCA.com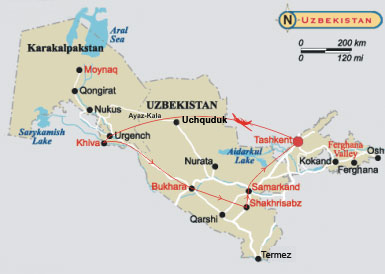 Reserve tour now >>>

Duration: 8 days, 7 nights
Kind of route: airway and motor coach tour
Season: all year
Accommodation: Single/Double in hotels

Description: The most popular tour around Uzbekistan - the crossroad of The Great Silk Road, the land of the ancient culture and the great historical values. More than 4000 architectural and archaeological monuments located in the territory of Uzbekistan, and four of them are listed in the list of UNESCO World Heritage Sites. Many of its cities have centuries and millenniums. Tashkent, Samarkand, Shahrisabz, Bukhara, Khiva - these are five of the main ten cities of the ancient and always young land of Moveraunnahr ("The country between two rivers").

In the deep old times these cities were a part of large state entities and were significant places of caravan's trade along The Great Silk Road, bright spots of the development for various arts and crafts, the high level town-planning, science and the culture.

This tour to Uzbekistan is specially elaborated for intellectual people interested in reach history, colorful culture and grandiose architecture of different nations living here. Tour-package consists of combination of historical, architectural and cultural components, carefully selected by OrexCA.com professionals.

Tour itinerary: Tashkent - (Urgench) - Khiva - Bukhara - Shakhrisabz - Samarkand - Tashkent
Day 1: Tashkent
Evening arrival to Tashkent - the capital of Uzbekistan. Transfer to the hotel and accommodation. Rest after a long flight.
Day 2: Tashkent - Khiva
Early breakfast in the hotel. Transfer to airport at 05:50. Departure to Urgench by flight HY1051 at 07:00. At 08:40 arrival to Urgench - the administration centre of the Khorezm region. Transfer to Khiva - the only "Museum under the open sky" in Central Asia that has been completely preserved up to the present day (35 km, 30 min). Accommodation in a hotel, located inside or nearby Ichan-Qala" - the historical center of Khiva which has been inscribed into the UNESCO World Heritage List. City tour around the architectural complex "Ichan-Qala" (12-19th cc.): Kunya-Ark khan's castle - the inner citadel of Ichan-Qala (16-17th cc.), Kalta Minor Tower (Short minaret) that would have become the biggest and tallest minaret in Central Asia (19th c.), Muhammad Amin-Khan - the biggest medieval medressa in Khiva (1845-1855 yy.), Djuma Mosque with 212 wooden columns and a minaret 32,5 m height (10th c.), Tash-Hauli (Stone courtyard) palace looking like a fortress with a high battlements, towers and fortified gates (19th c.), Ak-Mosque (White Mosque) - a small quarter mosque by the gates of Palvan-Darvaza (1838-1842), necropolis of Pahlavan Mahmud - the cultic center of Ichan-Qala (1810-1913 yy.), residence of Islam Khodja (1910 y) - the vizier of last khan. Ensemble consists of the smallest medressa in Khiva and a minaret whose top platform has a height of 45 m and is the highest observation point in town. Free time. Overnight in Khiva.
Day 3: Khiva - Bukhara
Breakfast. Coach trip to Bukhara via Kizil-Kum desert along Caravan road (480 km, 5-7 hrs). Arrival to Sacred Bukhara - one of the most esteemed cities of Islamic civilization. Hotel accommodation. Free time for rest and walking through the old streets of Bukhara. One of the "1000 and 1 nights" in Bukhara.
Day 4: Bukhara
Breakfast. City tour: mausoleum of the Samanids - the most ancient brick building in Central Asia, a masterpiece of world architecture (9-10th c.), the mausoleum of Chashma Ayub that belongs to esteemed "places of trace" left by saints (14th c). The legend says that once the bible prophet Job (Ayub) visited this place. Visit to the museums of Imam Al Bukhari and "The Museum of Water". Bolo-Houz Mosque - the only monument of medieval Bukhara (beg. of 20th c), Ark - the center of Bukhara statehood (4th c BC), silk carpet shops, complex Poi Kalon ("Beneath the Great"): Kalyan Minaret - the main symbol of sacred Bukhara that symbolized authority and power of spiritual governors. (12th c), Kalyan Mosque - its area of 130 x 80 m surpasses Bibi-Khanym mosque in Samarkand, Miri Arab Madrassah - active madrassah is one of the most esteemed spiritual Islamic universities (16th c), Taki Zargaron - the dome of jewelers (15-16th cc), Ulugbeg Madrassah - one of the 3 madrassahs constructed by grandson of Tamerlan - Ulugbeg (15th c), Abdulaziz-khan Madrassah - a traditional madrassah with 2 floors of hudjras and a mosque on the central axis ( mid. of 17th c), Tim of Abdullah-Khan madrassah (1588-1590), atlas shops, Magoki-Attari Mosque - the most ancient mosque in Bukhara (12th c) is considered a masterpiece of Bukhara architecture, Khanaka and madrassah of Nadir Divan-Beghi - a massive rectangular structure that was a place for the refuge and meditation of Sufis (17th c), Kukeldash Madrassah (16th c) - one of the biggest Bukhara madrassah, Lyabi-Hauz ensemble - the largest artificial reservoir of medieval Bukhara - is very popular among travelers (14-17th cc), Chor Minor ("Four minarets") is an unusual madrassah built by Caliph Niyazkul (18th c). Overnight in a quiet and cozy Bukhara hotel.
Day 5: Bukhara - Shakhrisabz - Samarkand
Breakfast. Transfer to Samarkand via Shakhrisabz - a unique monument of town-planning and architecture (270 km, 3.5 hrs). Shakhrisabz tour: ruins of "Ak-Saray Palace" - Tamerlan's summer residence that shocked the imagination of his contemporaries (14-15th c), "Jahongir Mausoleum"- mausoleum of Tamerlan's eldest and favorite son (14th c), complex "Dor-ut Saodat": "Khazratiy Imam Mosque" - the multi-stage mosque with domical hall with decorated ayvans (14th c), "Gumbazi-Seiidan" - mausoleum of possible offspring of Temur, "Kok Gumbaz Mosque" ("Blue dome") - built by Ulugbek on behalf of his father Shahruh (15th c). The Golden Road to the historical town of Samarkand - a crossroad of the world's cultures, one of the most ancient cities in the world (90 km, 1.5 hrs). Hotel accommodation and free time. Overnight in the city that is a contemporary of ancient Rome and has a history of more than 2500-years.
Day 6: Samarkand
Breakfast. City tour: Gur Emir Mausoleum - Tamerlan's tomb (14-15th c.) that was built for Temur's grandson Muhammad-Sultan and the tombs of three other Temurids - sons of Temur - Miranshah and Shahruh and his grandson Ulugbek, Ruhabad Mausoleum ("House of Spirit") - the legend says that under the dome there is a box with seven hairs of Prophet Muhammad (14th c.), Registan Square ("A sandy place") - the major square of Samarkand: Ulugbeg Medressa - Sheikh Khodja Akhrar and poet Djami were among outstanding graduates of the medressa (15th c.), Sher-Dor Medressa ("Having tigers") (17th c.), Tillya-Kari Medressa ("Coated by gold") - the rich gilding on the dome, walls and mihrab surpassed all other famous buildings in Central Asia (17th c.). The mosque named after Hazret-Hyzr - an Islamic saint and eternal wanderer. He was esteemed as giving richness and good luck in far voyages and trade (19th c.), cathedral mosque Bibi-Khanym that was named after the oldest wife of Tamerlan (14th c.), the architectural complex Shahi-Zinda (Alive king) - necropolis on the slope of the Afrosiab hill is connected with Kusam ibn Abbas - the cousin of Prophet Muhammad (11-15th c), Siab bazaar. Free time to spend at leisure. Overnight in the capital of Tamerlane's Empire.
Day 7: Samarkand - Tashkent
Breakfast. On the way to Tashkent (315 km, 5 hrs) you can visit the biggest observatory of the 15th c. built by Ulugbeg. Arrival to the capital of Uzbekistan and hotel accommodation. City tour around Tashkent: "New Tashkent Television Tower" - the highest in Central Asia - 375 m, "Memorial to the Victims of Repression" - the memorial complex and museum, "Monument of Courage" - the epicenter of Tashkent earthquake of 1966 (1976 y). Old part of the city: the architectural complex "Khazret-Imam" incl. necropolis of imam Abu Bakr Muhammad al-Kaffal Shashi who was one of the first Muslim imams and a famous divine and poet (16th c), "Barak-khan Medressa" - built by Suyunidj-khan - the first ruler of the Uzbek dynasty of the Sheibanid's (16th c), "Tellya Sheikh Medressa" also called "Khast Imom Mosque" where Osman Quran - the world's oldest is kept (19th c), "Mui-Mubarak Medressa (19th c)", "Juma Mosque" (15-19th cc), Imam Ismail al Bukhari Islamic Institute - a two year post-medressa academy, "Hadra" square, "Kukeldash Medressa" ("Foster brother") - was built by Kukekdash - the vizier of Tashkent khans (16th c), "Jami Mosque"- the third biggest mosque in Uzbekistan, "Chorsu" - oriental bazaar, "National park", "Abdulkasim Medressa" which now is the centre for traditional arts with attractive souvenirs by local artisans (19th c). Overnight in Tashkent.
Day 8: Tashkent
Breakfast. Transfer to Tashkent Airport for morning flight to next destination, good bye to the wonderful land, back to monotony with the intention of returning.
Price for tour package
Group
Price for 1 person US$
Budget class accommodation:
Uzbekistan Hotel, Kamila Hotel, Lyabi House Hotel, Arkanchi Hotel
Tourist class accommodation:
Hotel Tashkent Palace , Grand Samarkand Hotel , Omar Khayyam Hotel , Azia Khiva Hotel
1
1099
1301
2
695
805
3
670
780
4
591
701
5
541
652
6
510
621
7
487
598
Single supplement
57
69
Price include:
Price does not include:

Double accommodation as per the list provided;
Transfers by A/C Sedan up to 2 pax, on A/C van (10 seats) up to 7 pax;
Airfare for internal flight HY Tashkent - Urgench;
Local tour guide in every city;
Breakfast in the hotels;
Entrance fees for the museums and monuments indicated in the main program;
Mineral water during the transfers.

Airfare of flights your city - Tashkent and back;
Lunches and dinners;
Personal expenses for souvenirs etc.;
Fees for additional services in the hotels;
Alcoholic and soft drinks;
Tips to local staff;
Camera/Video fees.
Recommended additional options upon your discretion at leisure time (at extra fee):
Our additional offers are designed in order to provide more choice to our customers and achieve their total satisfaction. We guarantee that after choosing our different additional services you would feel that your enhancement of wonderful experiences. Contact our tour operator or your tour guide so that we may be able to plane great experience in advance.
Khiva:
- Khorezmian folklore concert US$ 45 per concert.
Bukhara:
- Wine tasting in the charming Caravansarai Nughai (US$ 10 p/person);
- Beer tasting in the beer production factory "AZIA" (US$ 10 p/person);
- A visit to an old Bozori Kord Hammam - Oriental spa (Hammam) for men and women (from US$ 3 to 15 p/person);
- We offer a few options for dinner:
1. Dinner in Madarihon Medressa with violin concert (US$ 10 p/person);
2. Dinner in Nodir Divan Begim Medressa with folklore show (US$ 13 p/person);
3. Traditional Uzbek dinner in Doston House (US$ 8 p/person);
- Splendid herbal teas in "Silk Road Spices" tea house (US$ 3 p/person);
- Fayzulla Hodjaev house-museum, where you can see the daily life of a Bukhara merchant at the beg.of the 20th c (US$ 2 p/person).

On the way from Bukhara to Samarkand:
- A visit to Vabkent minaret - one of the highest in Uzbekistan - 39 m (12th c.) (free);
- A visit to creative workshop of Abdullo Narzullayev in Gizhduvan Town (free);
- A visit to Rabat-i-Malik - an old caravanserai on Silk Road (12th c.) (free).

Samarkand:
- An unforgettable performance in The Theatre of Historical Costume El Merosi (we need to check in advance if this performance is available on the date of your visit) (US$ 10 p/person for groups only or upon concert availability on a certain date);
- There is an option to see the magical light show on "Registan" square (order should be completed beforehand) (US$ 40 for show, up to 40 persons);
- Visit to an old water mill in a Samarkand suburb (US$ 15 p/person);
- Interesting options to see the processing of and purchase souvenir:
1. Famous Silk carpet factory (visit free);
2. Small Silk Processing factory Aiesha (27 US$ for 2 persons, for groups more than 2 persons visit free).

Tashkent:
- A visit to the famous Alisher Navoi Opera & Ballet Theatre (US$ 5 p/person);
- 1 hour tour of the "Tashkent Metro" - one of most beautiful in the world (US$ 3 p/person);
- Dinner in Uzbek national house (US$ 8 p/person).