History and Modernity
Exclusive guided Luxury travel to Uzbekistan. Tours for a limited number of special guests!
Request for tour price & booking >>>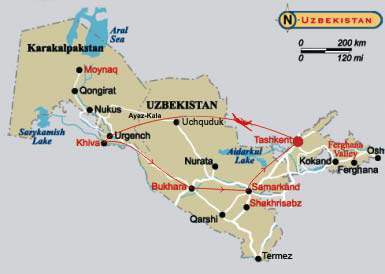 Duration: 7 days, 6 nights
Type of route: air and motor coach (on Mercedes S600)
Season: March - November
Accommodation: Single/Double LUX in hotels

Travel itinerary: Tashkent - Urgench - Khiva - Bukhara - Samarkand - Tashkent

Day 1: Arrival in Tashkent airport and passing through CIP hall. Transfer to Hotel InterContinental Tashkent, Check-In. Lunch at The Brasserie on the Park restaurant. City tour in Tashkent. Dinner at restaurant. Overnight in Tashkent.

More detailed Tashkent city tour:
Khalklar Dustligi square, Abulkasim madrasah (1850), Abu Bakr Kaffal Shoshi- Islamic scholar mausoleum (16th c.), Barak-Khan madrasah (16th c.), Kaffal-Shashi mausoleum (15th c.), Kukeldash madrasah (16th c.), Djuma Mosque (9th c.).

Day 2: Breakfast in The Brasserie on the Park restaurant. Drop at Tashkent airport for morning flight HY to Urgench (business class is available on Saturdays only). Arrival in Urgench. Accommodation in Hotel Khorezm Palace . Lunch in Hotel restaurant. Transfer to Khiva (30 km). Tour of Ichan-Kala fortress. Dinner in exotic Tea-house. Transfer back to Urgench for overnight stay.

More detailed Khiva city tour:
Ichan-Kala architectural complex (12-19th cc.), the Residence of the last Khan including Ismail Khodja mausoleum, Mohammed Amin Khan madrassah, Kunya-Ark Castle (16-17th cc.), Kalta Minor tower, Tash-Hovli Palace (19th c.), Pahlavan Mahmud mausoleum (14-18th cc.), Juma mosque (10th c.).

Day 3: Breakfast in Hotel. Coach trip to Bukhara via the Kizil Kum desert along the Caravan road (480 km, 5-6 hrs). Box lunch en-route. Arrival in Bukhara. Accommodation in Suite/s of the Oriental-style Hotel Zargaron, , that is located in the very center of the Old City. Lunch in Hotel restaurant. Short city tour. Dinner in the old medresse Nodir-Divan Begim with folklore concert and fashion show. Overnight in Bukhara.

More detailed Bukhara city tour:
Minaret Kalon (12-14th c.), Kalon mosque (15th c.), Medreseh Miri Arab (16th c.).

Day 4: Breakfast in Hotel. Continuation of city tour. Lunch in Bella Italia restaurant. Wine tasting in Caravansarai Nughai. Free time. Dinner in Medresse Madarihon (1556/57) with violin concert. Overnight in Bukhara.

More detailed city tour:
Citadel Ark, Samanids Mausoleum (10th c.), Chashma Ayub, Bolo-Hauz Mosque (early 20th c.), Coumpol bazaar, complex Lyabi-Khauz complex (14-17th c.). Upon guests' wishes - a trip out of the city for a visit to the Emir's summer residence, Sitorai-Mokhi-Hossa (19th c.) .) the Bahouddin Nakshbandi mausoleum (16-19th c.), and the sepulchers of his mother and his predecessor (14th c.).

Day 5: Breakfast in Hotel. Transfer to Samarkand (268 km, 4 hrs). Arrival in Samarkand and accommodation in Hotel President . Lunch in the Hotel restaurant Timur. City tour. Dinner in restaurant Karim Bek. Overnight in Samarkand.

More detailed city tour:
Registan square: Medreseh Ulughbek (15th c.), Medreseh Shir-Dor (17th c.), Medreseh Tilla-Kori (17th c.), Mausoleum Guri Emir - Tamerlane's Tomb (14-15th cc.), Bibi-Khonum Mosque (1399-1404), Mausoleum of Al-Bukhoriy, Bazaar.

Day 6: Breakfast in Hotel. Continuation of city tour. Lunch in Hotel restaurant. Transfer to Tashkent (315 km, 4 hrs). Accommodation in Hotel InterContinental Tashkent. Farewell Dinner at the Allegro restaurant, on the Mezzanine floor of the Hotel.

More detailed Samarkand city tour:
Architectural complex Shakhi-Zindeh (11-15th c.), Ulughbek Observatory (1428-1429), Excavations of the ancient city of Afrosiab (8th c. BC - 13th c. AD).

Day 7: Breakfast in the in The Brasserie on the Park. Transfer to airport for flight to next destination (according to timetable).

In your leisure time, you are advised to visit the following locations in Tashkent:
Broadway street, the Tashkent subway, Independence Square, Amir Temur Museum, City museums and fountains.

Remarks:


Would you like to extend your program and visit the Western Tian-Shan Mountains, close to Tashkent? OrexCA.com com recommends only the best and most luxurious mountain resorts in Uzbekistan - Charvak, Chimgan and Beldersay.
Upon your special request OrexCA.com can book the YAK-40 Business Jet with a special VIP-salon for all your Uzbekistan travels.
Accommodation

City

Hotel

Tashkent

Urgench (Khiva)

Bukhara

Samarkand
We hope you like the program and assure you that we are absolutely open to any suggestions to increase the range of our services for the complete satisfaction of our clients and are happy to meet your special requirements.
You can alter the duration of your tour and places of visits by adding one of the Uzbekistan resorts or tour extensions. Our tour operator will work closely with you or your travel agent to carefully prepare an itinerary based on your stated interests.