Wonders of Uzbekistan
Discounted holidays for Indian Travel Agencies and Corporates to Uzbekistan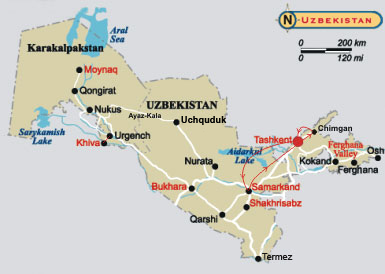 Click here to enquire about or book this tour >>>
Six days experience in Tashkent - the city of fun, leisure and wonderful surprises including trips to magnificent Tyan-Shan mountains & Samarkand - the Heart of Tamerlane' Empire!

Tour code: WUA-1
Duration: 6 days, 5 nights
Trip type: incentive or leisure tour
Season: all year
Accommodation: Twin/Single in hotels: Uzbekistan 4* / Le Grande Plaza 4* / Dedeman Silk Road Tashkent 4* / City Palace 4*
Price per person: from US$ 344
Travel itinerary: Amritsar - Tashkent - Charvak-Chimgan mountains - Tashkent - Samarkand - Tashkent - Amritsar
Day 1 (Fri.):
Arrival to Tashkent by HY 442 at 13:25. Transfer to the hotel, non-alcoholic welcome drink and accommodation. Rest time for massage or relaxation. Afternoon city excursion including shopping in Chorsu Oriental bazaar and Lal Bahadur Shastri Monument visit. Show program in one of night clubs. Overnight in Tashkent.

Day 2 (Sat.):
Excursion to Charvak-Chimgan Mountain. Transfer back to Tashkent. Free time for leisure. Overnight in Tashkent.

Day 3 (Sun.):
Free day in Tashkent. Shopping. Free time for leisure. Overnight in Tashkent.

Day 4 (Mon.):
Transfer to Samarkand (315 km, 5 hrs). Samarkand city tour including visiting to the famous carpet factory and wine tasting in Khovrenko winery. Transfer back to Tashkent. Free time for leisure. Overnight in Tashkent.

Day 5 (Tue.):
Free day in Tashkent. Shopping. Free time for leisure. Overnight in Tashkent.

Day 6 (Wed.):
Transfer to the airport for return flight HY-443 to Amritsar at 11:10. Good bye to the wonderful land, back to monotony with the intention of returning.


Special promotion prices for tour package, p/pax, US$
Group
Hotel Uzbekistan ****
(Off season,
Middle season)
Hotel Uzbekistan ****
High season
(16.03-15.06, 16.08-15.11)
Hotel Le Grande Plaza ****
Hotel Dedeman ****
City Palace Hotel ****
40+1
344
397
390
607
452
35+1
351
404
397
614
458
30+1
360
414
407
624
467
25+1
374
427
420
637
496
20+1
392
446
439
656
497
15+1
393
447
440
657
498
10
394
448
441
658
499
8
395
449
442
659
501
6
428
481
474
691
532
4
495
548
542
758
595
Single supplement
40
133
133
250
167
Price includes:
Price does not include:

Visa support;
Non-alcoholic welcome drink at the hotel upon arrival;
5 nights of Twin hotel accommodation;
5 breakfasts in the hotel;
5 lunches and 5 dinners with Indian food;
Gala dinner with show program for groups from 15 pax on the 1 day of arrival;
Transportations on minibuses for groups from 4 till15 pax and buses for groups from 20 till 40 pax on days 1, 2, 4 and 6;
Escort tour guide/service assistant;
Entrance fees to monuments in Tashkent, visiting Gur Emir, Registan, Shahi-Zinda during excursion in Samarkand;
Wine tasting in Samarkand;
Free of charge 1 tour leader's package for groups from 15 pax;
1 lift on cable way in mountains;
Souvenirs upon departure from Tashkent;
Mineral water during the transfers and excursion.

Airfare of flights Amritsar - Tashkent and back;
Consular fee in Uzbek Embassy;
Fees for additional services in the hotels;
Alcoholic and soft drinks;
Tips to local staff.
Additions upon you discretion at leisure time
Our additional offers are designed in order to provide more choice to our customers and achieve their total satisfaction. We guarantee that after choosing our different additional services you will feel that your wonderful experience has been enhanced. Contact our
representative
or your tour guide so that we may be able to plane a great experience in advance.
#
Additional service
Min. # of persons
Price US$,
per person
Price includes
1
Once in a life time famous Alisher Navoi Opera & Ballet Theatre
2
10
transport and entrance tickets
2
1 hour Tashkent metro excursion
3
5
transport and professional guide
3
Lunch with local family in a traditional house to experience the rich food and cultural traditions
5
15
transport, lunch and guide
4
Choice of fishing (during Charvak-Chimgan countryside voyage)
2
70

fishing-tackle and local guide

5
Experience the Russian dacha (farm house in Charvak mountains, 90 km from Tashkent) with barbecue amongst wonderful company
3
90
transport, guide, barbecue and overnight in cottage
6
Experience the serenity and aura of Charvak-Chimgan mountain region, 100 km from Tashkent
3
50
transport and guide
Important notes!!!
- This route is
certified
;
- Tour program designed upon appropriate Uzbekistan Airways flight schedule: Amritsar - Tashkent HY-442 (departure Friday) and Tashkent - Amritsar HY-443 (departure Wednesday). The schedule valued till the 24
th
of October 2011;
- An import alcohol tax in Uzbekistan is high and we recommend advising your clients to purchase whiskey and rum at Delhi Duty Free shop;
- Uzbekistan group visa (15 pax and more) consular fee is US$
15
ONLY (+ US$
15
extra fee per group). Individual visa consular fee is US$
55
;
- In mountains the following attractions and amusements are available:
in Pyramids resort - bowling (round year) and water scooters (in Summers);
in Chimgan and Beldersay mountain areas - horse back trips (round year), snow scooters and skiing/snowboarding (in Winters);
- All transport provided with A/C and music system;
- The above prices are for Travel Agents ONLY and include 10% commission.
Uzbekistan waits to welcome You!
We hope you like the program and assure you that we are absolutely open to any suggestions to increase the range of our services for the entire satisfaction of our clients and are happy to meet your special requirements.
You can alter the duration of your tour and places of visits by adding one of the extensions. Our tour operator will work closely with to carefully prepare an itinerary based on your stated interests.